Thule OutWay Platform and OutWay Hanging guide
The Thule OutWay Platform and Hanging are two premium rear mounted cycle racks designed to fit to modern cars and SUV's, even when the vehicle has a rear spoiler at the top of the tailgate.
Thule models - 993 OutWay Platform 2 - 994 OutWay Hanging 2 - 995 OutWay Hanging 3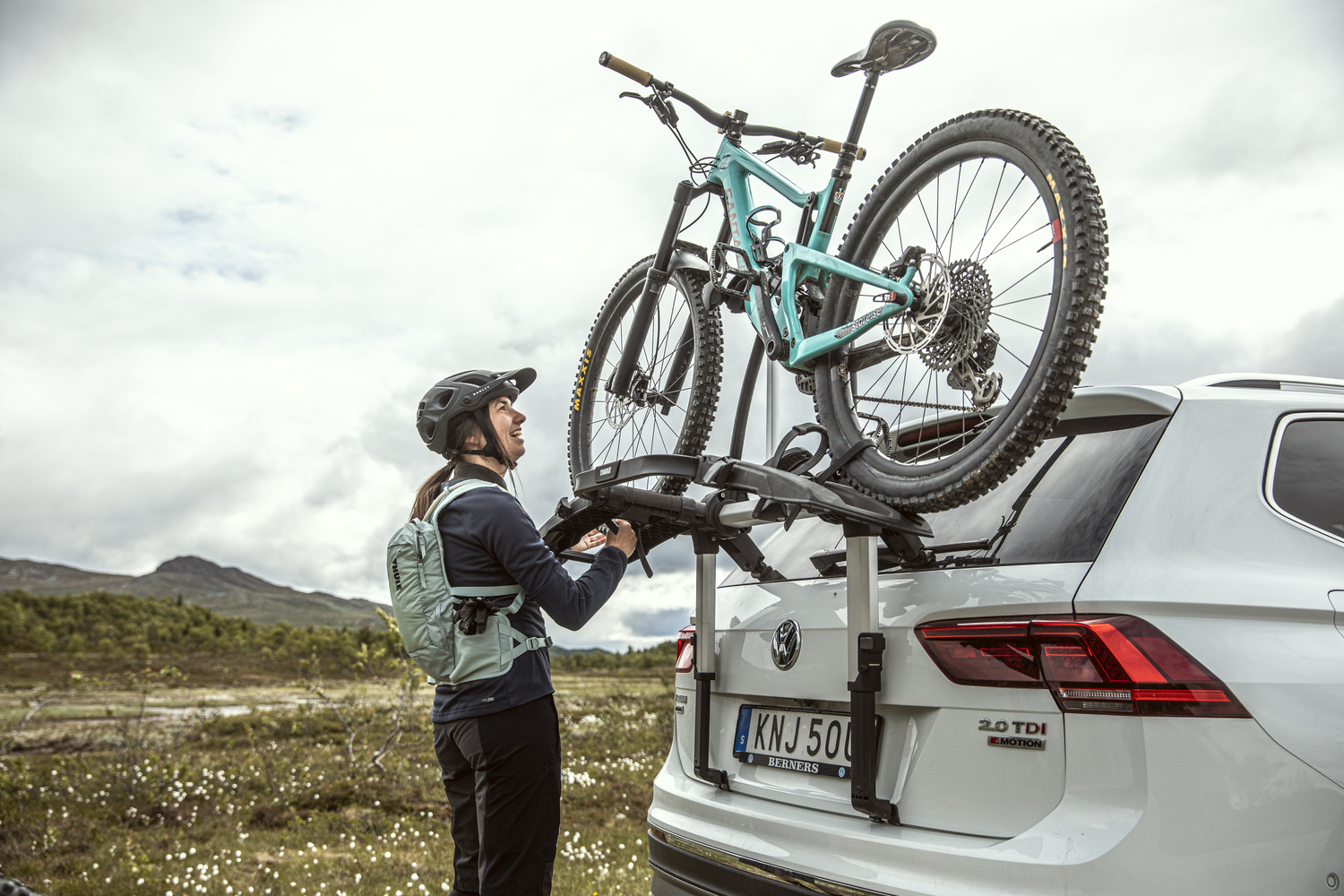 To find out if the Thule OutWay carriers fit to your vehicle please simply use our online Thule Rear Mounted Bike Carrier Guide or view the list of vehicles below.
If your vehicle does not appear in the list below, our online Thule Rear Mounted Bike Carrier Guide has the most up to date vehicles shown and may also suggest an alternative boot mounted carrier solution where possible.
Is the Thule OutWay cycle carrier suitable for my car?
The following list of vehicle's have all been test and approved by Thule for use with all Thule OutWay cycle carriers.
Alfa Romeo Giulia, Saloon - 2016 - onwards
Alfa Romeo Giulietta, Hatchback - 2010 - onwards
Audi A3 Sportback, Hatchback - 2004 - 2012
Audi A3, Saloon - 2013 - 2020
Audi A3, Saloon - 2021 - onwards
Audi A4 Allroad, Estate - 2008 - 2015
Audi A4, Saloon - 2008 - 2015
Audi A4, Saloon - 2016 - onwards
Audi A6 Avant, Estate - 2005 - 2010
BMW 1 Series, Hatchback - 2004 - 2011
BMW 1 Series, Hatchback - 2012 - 2019
BMW 1 Series, Hatchback - 2020 - onwards
BMW 3 Series, Estate - 2005 - 2011
BMW 3 Series, Estate - 2012 - 2019
BMW 3 Series, Saloon - 2005 - 2011
BMW iX1, SUV - 2023 - onwards
BMW X1, SUV - 2010 - 2015
BMW X1, SUV - 2016 - 2022
BMW X1, SUV - 2023 - onwards
BMW X3, SUV - 2010 - 2017
BMW X3, SUV - 2018 - onwards
Byd Atto 3, SUV - 2022 - onwards
Chevrolet Cruze, Hatchback - 2013 - 2016
Chevrolet Malibu, Saloon - 2016 - onwards
Chevrolet Trailblazer, SUV - 2021 - onwards
Citroën C3, Hatchback - 2002 - 2009
Citroën C3, Hatchback - 2010 - 2016
Citroën C3, Hatchback - 2017 - onwards
Citroën C4, Hatchback - 2010 - 2018
Cupra Ateca, SUV - 2016 - onwards
Cupra Formentor, SUV - 2021 - onwards
Dacia Duster, SUV - 2010 - 2017
Dacia Duster, SUV - 2018 - onwards
Dacia Logan MCV, Estate - 2013 - 2021
Dacia Sandero Stepway, SUV - 2013 - 2020
Dacia Sandero Stepway, SUV - 2021 - onwards
Dacia Sandero, Hatchback - 2008 - 2012
Dacia Sandero, Hatchback - 2013 - 2020
Dacia Sandero, Hatchback - 2021 - onwards
Fiat Freemont, SUV - 2012 - onwards
Fiat Punto, Hatchback - 2012 - onwards
Fiat Tipo, Estate - 2016 - onwards
Fiat Tipo, Hatchback - 2016 - onwards
Ford C-Max, MPV - 2010 - 2019
Ford Edge, SUV - 2015 - onwards
Ford Fiesta, Hatchback - 2002 - 2008
Ford Fiesta, Hatchback - 2008 - 2017
Ford Fiesta, Hatchback - 2018 - onwards
Ford Focus Active, Estate - 2019 - onwards
Ford Focus Active, Hatchback - 2019 - onwards
Ford Focus, Estate - 2019 - onwards
Ford Focus, Hatchback - 2005 - 2011
Ford Focus, Hatchback - 2011 - 2018
Ford Focus, Hatchback - 2019 - onwards
Ford Ka+, Hatchback - 2016 - onwards
Ford Kuga, SUV - 2008 - 2013
Ford Puma, SUV - 2020 - onwards
Honda Civic Type R, Hatchback - 2017 - onwards
Honda Civic, Hatchback - 2017 - onwards
Honda Fit (Jazz), Hatchback - 2014 - 2020
Honda Fit (Jazz), Hatchback - 2020 - onwards
Honda HR-V, SUV - 2015 - onwards
Honda Jazz (Fit) Crosstar, Hatchback - 2020 - onwards
Honda Jazz (Fit), Hatchback - 2020 - onwards
Honda Pilot, SUV - 2016 - onwards
Hyundai Bayon, Hatchback - 2021 - onwards
Hyundai Grand Santa Fe, SUV - 2013 - 2018
Hyundai i10, Hatchback - 2014 - 2020
Hyundai i10, Hatchback - 2020 - onwards
Hyundai i20 Active, Hatchback - 2015 - 2020
Hyundai i20, Hatchback - 2015 - 2020
Hyundai i20, Hatchback - 2020 - onwards
Hyundai i30, Estate - 2018 - onwards
Hyundai i30, Hatchback - 2007 - 2010
Hyundai i30, Hatchback - 2017 - onwards
Hyundai ix20, Hatchback - 2010 - onwards
Hyundai ix35, SUV - 2010 - 2015
Hyundai Kona, SUV - 2017 - onwards
Hyundai Santa Fe, SUV - 2013 - 2018
Infiniti QX70, SUV - 2014 - 2017
Jac JS4, SUV - 2022 - onwards
Jaguar XF, Saloon - 2008 - 2015
Jeep Cherokee (KL facelift), SUV - 2019 - onwards
Jeep Compass, SUV - 2017 - onwards
Jeep Renegade, SUV - 2015 - onwards
Kia Carens, MPV - 2013 - onwards
Kia Cee'd, Hatchback - 2012 - 2018
Kia Ceed SW, Estate - 2019 - onwards
Kia e-Niro, SUV - 2018 - 2022
Kia Niro, SUV - 2017 - 2022
Kia Picanto, Hatchback - 2011 - 2017
Kia Picanto, Hatchback - 2017 - onwards
Kia Rio, Hatchback - 2005 - 2011
Kia Rio, Hatchback - 2017 - onwards
Kia Sorento, SUV - 2015 - 2020
Kia Sorento, SUV - 2021 - onwards
Kia Sportage, SUV - 2010 - 2016
Kia Venga, MPV - 2010 - onwards
Kia Xceed, SUV - 2019 - onwards
Lexus CT, Hatchback - 2011 - 2017
Mazda 2, Hatchback - 2007 - 2014
Mazda 2, Hatchback - 2015 - 2021
Mazda 3, Hatchback - 2009 - 2013
Mazda 3, Hatchback - 2014 - 2018
Mazda 3, Hatchback - 2016 - 2019
Mazda 6, Saloon - 2013 - onwards
Mazda CX-3, SUV - 2015 - onwards
Mazda CX-30, SUV - 2020 - onwards
Mazda CX-5, SUV - 2012 - 2017
Mazda CX-5, SUV - 2017 - onwards
Mazda CX-9, SUV - 2016 - onwards
Mercedes Benz A-Class, Saloon - 2019 - onwards
Mercedes Benz B-Class, Hatchback - 2011 - 2018
Mercedes Benz C-Class, All Terrain, Estate - 2021 - onwards
Mercedes Benz C-Class, Estate - 2015 - 2021
Mercedes Benz C-Class, Estate - 2021 - onwards
Mercedes Benz C-Class, Saloon - 2007 - 2014
Mercedes Benz C-Class, Saloon - 2021 - onwards
Mercedes Benz E-Class, All Terrain, Estate - 2016 - onwards
Mercedes Benz E-Class, Estate - 2016 - onwards
Mercedes Benz EQA, SUV - 2021 - onwards
Mercedes Benz EQC, SUV - 2020 - onwards
Mercedes Benz GLA, SUV - 2014 - 2020
MG 5, Estate - 2020 - onwards
MG EHS HS, SUV - 2021 - onwards
MG ZS, SUV - 2018 - onwards
Mini Cooper, Hatchback - 2014 - onwards
Mini Cooper, Hatchback - 2014 - onwards
Mitsubishi ASX, SUV - 2010 - onwards
Mitsubishi Eclipse Cross, SUV - 2018 - onwards
Mitsubishi Space Star, Hatchback - 2012 - onwards
Nissan Leaf, Hatchback - 2018 - onwards
Nissan Micra, Hatchback - 2010 - 2016
Nissan Note, Hatchback - 2013 - 2020
Nissan Qashqai, SUV - 2007 - 2013
Nissan Qashqai, SUV - 2014 - 2021
Peugeot 2008, SUV - 2020 - onwards
Peugeot 207, Hatchback - 2006 - 2012
Peugeot 208, Hatchback - 2012 - 2019
Peugeot 208, Hatchback - 2020 - onwards
Peugeot 3008, MPV - 2009 - 2016
Peugeot 307, Hatchback - 2002 - 2005
Peugeot 308 GTi, Hatchback - 2014 - 2020
Peugeot 308 SW GT, Estate - 2014 - 2020
Peugeot 308, Hatchback - 2007 - 2013
Renault Clio, Hatchback - 2005 - 2014
Renault Clio, Hatchback - 2019 - onwards
Renault Grand Scenic, MPV - 2010 - 2017
Renault Kadjar, SUV - 2015 - onwards
Renault Koleos, SUV - 2017 - onwards
Renault Megane, Hatchback - 2009 - 2016
Renault Scenic, MPV - 2009 - 2016
Renault Twingo, Hatchback - 2007 - 2014
Renault Zoe, Hatchback - 2013 - onwards
Seat Arona, Hatchback - 2018 - onwards
Seat Arona, SUV - 2018 - onwards
Seat Ateca Black Edition, SUV - 2016 - onwards
Seat Ateca, SUV - 2016 - onwards
Seat Ibiza ST, Estate - 2010 - 2017
Seat Ibiza, Hatchback - 2008 - 2017
Seat Ibiza, Hatchback - 2017 - onwards
Seat Leon (X-Perience), Estate - 2015 - 2020
Seat Leon, Hatchback - 2005 - 2012
Seat Leon, Hatchback - 2013 - 2020
Seat Mii, Hatchback - 2012 - onwards
Seat Tarraco, SUV - 2019 - onwards
Skoda Citigo, Hatchback - 2012 - onwards
Skoda Fabia, Estate - 2008 - 2014
Skoda Fabia, Estate - 2015 - 2021
Skoda Fabia, Hatchback - 2015 - 2021
Skoda Fabia, Hatchback - 2022 - onwards
Skoda Kamiq, SUV - 2019 - onwards
Skoda Karoq, SUV - 2018 - onwards
Skoda Kodiaq, SUV - 2017 - onwards
Skoda Octavia Scout, Estate - 2013 - 2019
Skoda Octavia, Estate - 2004 - 2012
Skoda Octavia, Estate - 2013 - 2019
Skoda Octavia, Estate - 2020 - onwards
Skoda Rapid Spaceback, Hatchback - 2014 - onwards
Skoda Roomster, MPV - 2006 - 2015
Skoda Superb, Estate - 2009 - 2015
Skoda Superb, Estate - 2015 - onwards
Subaru Crosstrek, SUV - 2023 - onwards
Subaru Crosstrek, SUV - 2023 - onwards
Subaru Forester, SUV - 2013 - 2018
Subaru Forester, SUV - 2019 - onwards
Subaru Impreza, Hatchback - 2023 - onwards
Subaru Impreza, Hatchback - 2023 - onwards
Subaru Legacy, Estate - 2009 - 2014
Subaru Outback, Estate - 2004 - 2009
Subaru Outback, Estate - 2010 - 2014
Subaru Outback, Estate - 2014 - 2020
Subaru Outback, Estate - 2020 - onwards
Subaru XV, SUV - 2012 - 2016
Subaru XV, SUV - 2017 - 2022
Suzuki Baleno, Hatchback - 2016 - onwards
Suzuki Swace, Estate - 2021 - onwards
Suzuki Swift, Hatchback - 2017 - onwards
Suzuki SX4 S-Cross, SUV - 2014 - onwards
Suzuki Vitara, SUV - 2015 - onwards
Toyota Auris, Estate - 2013 - 2019
Toyota Auris, Hatchback - 2013 - 2019
Toyota Avensis, Estate - 2009 - 2018
Toyota Corolla Cross, SUV - 2021 - onwards
Toyota Corolla Cross, SUV - 2021 - onwards
Toyota Corolla, Saloon - 2014 - 2018
Toyota Corolla, Saloon - 2019 - onwards
Toyota Verso, Hatchback - 2009 - onwards
Toyota Yaris Cross, SUV - 2021 - onwards
Toyota Yaris Hybrid, Hatchback - 2021 - onwards
Toyota Yaris, Hatchback - 2005 - 2011
Toyota Yaris, Hatchback - 2012 - 2020
Toyota Yaris, Hatchback - 2021 - onwards
Vauxhall Adam, Hatchback - 2013 - onwards
Vauxhall Astra Sports Tourer , Estate - 2010 - 2015
Vauxhall Astra Sports Tourer, Estate - 2016 - onwards
Vauxhall Astra, Hatchback - 2004 - 2009
Vauxhall Astra, Hatchback - 2010 - 2015
Vauxhall Astra, Hatchback - 2016 - onwards
Vauxhall Corsa, Hatchback - 2006 - 2014
Vauxhall Corsa, Hatchback - 2015 - 2019
Vauxhall Corsa, Hatchback - 2015 - 2019
Vauxhall Corsa, Hatchback - 2015 - 2019
Vauxhall Corsa, Hatchback - 2020 - onwards
Vauxhall Corsa, Hatchback - 2020 - onwards
Vauxhall Insignia CT, Estate - 2017 - onwards
Vauxhall Insignia ST, Estate - 2017 - onwards
Vauxhall Mokka / Mokka X, SUV - 2013 - 2020
Vauxhall Zafira, MPV - 2006 - 2014
Vauxhall Zafira, MPV - 2012 - 2016
Volkswagen Arteon, Hatchback - 2017 - onwards
Volkswagen E-Golf, Hatchback - 2015 - 2020
Volkswagen Golf Alltrack, Estate - 2015 - 2020
Volkswagen Golf GTD, Hatchback - 2013 - 2020
Volkswagen Golf GTE, Hatchback - 2013 - 2020
Volkswagen Golf GTI, Hatchback - 2013 - 2020
Volkswagen Golf Sportsvan, MPV - 2014 - 2020
Volkswagen Golf, Estate - 2013 - 2020
Volkswagen Golf, Hatchback - 2004 - 2007
Volkswagen Golf, Hatchback - 2008 - 2012
Volkswagen Golf, Hatchback - 2013 - 2019
Volkswagen Golf, Hatchback - 2020 - onwards
Volkswagen Passat Alltrack, Estate - 2015 - onwards
Volkswagen Passat Variant (B7), Estate - 2010 - 2014
Volkswagen Passat, Estate - 2015 - onwards
Volkswagen Polo, Hatchback - 2002 - 2009
Volkswagen Polo, Hatchback - 2009 - 2017
Volkswagen Polo, Hatchback - 2018 - onwards
Volkswagen Sharan, MPV - 2010 - 2015
Volkswagen Sharan, MPV - 2016 - onwards
Volkswagen T-Cross, SUV - 2019 - onwards
Volkswagen Taigo, SUV - 2022 - onwards
Volkswagen Tiguan Allspace, SUV - 2018 - onwards
Volkswagen Tiguan, SUV - 2016 - onwards
Volkswagen Touran, MPV - 2003 - 2015
Volkswagen Touran, MPV - 2015 - onwards
Volkswagen Toureg, SUV - 2019 - onwards
Volvo S60, Saloon - 2019 - onwards
Volvo S90, Saloon - 2016 - onwards
Volvo V60 Cross Country, Estate - 2015 - 2018
Volvo V60, Estate - 2011 - 2018
Volvo V90 Cross Country, Estate - 2017 - onwards
Volvo V90, Estate - 2016 - onwards
Volvo XC60, SUV - 2017 - onwards
Volvo XC70, Estate - 2008 - 2016
** Vehicle list updated on 16th June 2023 - Please refer to our rear mount guide for the latest fitment recommendation