Thule launches two bike travel cases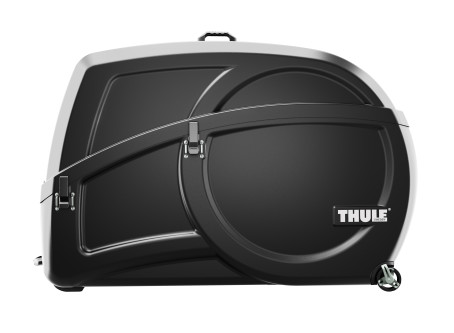 Thule Bike Travel Cases
Bicycle protection is the number one priority when transporting your bicycle via airliner. With more and more cyclists flying to triathlons, cycling tours and granfondos, there is an increasing need for simple bicycle protection.  Thule is proud to announce the Round Trip Pro and Round Trip Elite bicycle travel cases that combine protection, ease of use and security. 
Available with the Round Trip Pro and Elite is an innovative integrated work stand to help with disassembly and reassembly of your bicycle. This work stands doubles as a rail to mount your bicycle on inside of the box creating a strong and secure platform to attach your bike on to.
Whether you prefer a hard or soft case, Thule's new Round Trip series offer safe and stylish solutions for both.
[divider]
Thule Round Trip Elite
Thule's premium hard case, the Round Trip Elite is made in Thule's Chicago cargo box factory and is made from a combination of ABS, aluminum and rugged nylon to protect the bike during transport. The integrated bike work stand makes bicycle assembly / disassembly a breeze.
Durable ABS construction delivers maximum bike protection

Integrated bike work stand which is easy to pack and assemble making traveling easy

Integrated wheels for easy transport

Top of box nests into bottom for easy storage when not in use

For most road, mountain and cyclocross bike with a wheelbase of 46" / 116.8 cm wheelbase

Fits 9, 15 and 20mm axles
[divider]
Thule Round Trip Pro
Thule's premium soft case, the Round Trip Pro, is made from a combination of hyper durable nylon and includes Thule's work stand.
Aluminum rail frame supports and protects during transport

Integrated bike work stand

Integrated wheels for easy transport

Side panels fold up & case collapses for easy storage

Lightweight

For most road, mountain and cyclocross bike with a wheelbase of 46" / 116.8 cm wheelbase

Fits 9, 15 and 20mm axles