The Entrepreneurs In The Forest - Thule Transport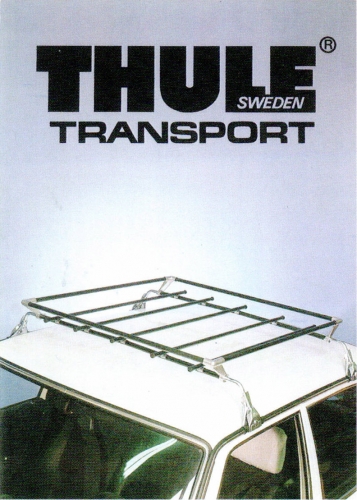 Thule Transport
Torp Speeds Up Exports
By 1967, Thule had established a decent client base in Sweden, Norway and Finland. There was, however, even more potential elsewhere in Europe, and when the worldly Danish salesman Johannes Torp Pedersen swung by Hillerstorp in his Mercedes S-Class that same year, a collaboration began that would last 13 years.
Torp Pedersen was a bachelor who worked on 6% commission, covered all his own costs, and spend most of his life on the road. Having offered to sell Thule's products in Europe, he quickly became the company's unofficial export manager. As soon as the contract was signer, Torp Pedersen headed south with a car full of demo products and shortly thereafter the teleprinter began rattling out orders from Switzerland, Germany, Austria, England and Denmark.
A Classic Is Born At A Campground
While Torp Pedersen was barreling down the autobahn and spreading Thule's name across Europe, Willis and his family traveled to Norrland with a camper in the summer of 1967. The vacation, however, was also spent thinking about how to speed up the production of Thule's roof racks. At the time, the design included a bent tubular frame that was both complicated to produce and took up too much space in the box.
But how could they get around that problem? At a campsite in Orebro Willis had a flash of genius and drew up a new design involving a corner piece made of die-cast zinc to connect the frame to the foot. It would be cheaper to produce., easier to transport and simpler to stock. Once again, Thule had come up with an innovative solution that left the competition trailing in its wake.
The new roof basket was registered for design protection and launched as the Thule Classic in the spring of 1968. Torp Pedersen immediately recognized its export potential. He brought the Thule Classic with him to Britain and made a successful sale to the importer Harry Moss, who had soon placed orders in excess of one million kronor.
Widening The Gap Through Product Development
The reason Thule was able to strengthen its grip on an increasingly competitive market for roof racks and ski carriers in the latter half of the 1960s can be summarized in two words: product development. The company kept making improvements to its ski carriers and roof racks, and one by one its competitors dropped out of the market.
Another important piece fell into place in 1968 when an 18-year-old named Jan-Ivar Arvidsson began working as a toolmaker at Thule. He quickly became a creative sounding board on which Willis, the ideas man, could test his concepts. In the years to follow, these two would be behind many of Thule's product development successes.