The Entrepreneurs In The Forest - Thule, The Best In Car Roofs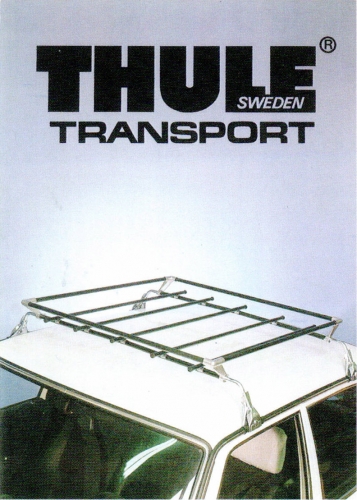 Thule Transport
Start With Plastic, And We'll Buy It
Of the three Thulin brothers, Bertil, the youngest, was the only one who didn't work for Thule. One day at the end of the 1960s, he told Willis that he felt the time had come to set up something of his own but he didn't really know what. "Start with plastic fabrication and i'll buy plastic parts from you - we need them for our racks." said Willis.
No sooner said than done. In true Gnosjo Spirit, Bertil Thulin started his own plastic manufacturing business at the same location that had witnessed Thule's development: the converted washouse on the farm in Osterskog. His brothers and Thule formed the nucleus of his customer base.
Thule, The Best In Car Roofs
Thule was doing well now. Turnover in 1969 had doubled over two years to 3.6 million kronor. That same year, Willis and Jack decided to refine the company their father had started 27 years earlier. From now on, Thule would focus solely on car roofs. Everything else, from headlamp grilles to head restraints and snow shovels, would be discontinued. But just making products for car roofs wasn't enough: Thule wanted to be the best in the business.
It was a tough decision, but both the timing and the balance sheet indicated that it was the right one. The recreation and motorist industries were growing like crazy and more and more Europeans were buying roof racks and ski carriers for vacations and sports travel. The company entered the 1970s under very different circumstances than when the sole proprietorship Metallfabriken Thule became Industri AB Thule ten years earlier. The foundations were laid. Now it was a case of building on them.