The Entrepreneurs In The Forest - Thule Makes It Onto The Car Roof
Carry On Or Close Down?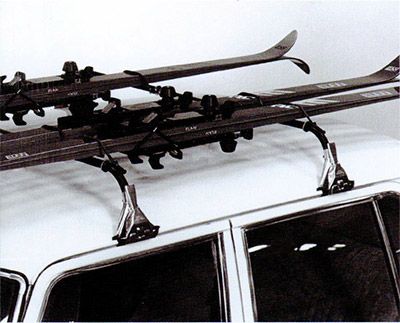 Thule First Ski Carrier
The most important issue on the agenda was whether Thule should close down or carry on. It was no easy decision. If they chose to shut down immediately, the company could declare bankruptcy without any of its creditors losing any money. If, on the other hand, they decided to keep going, they would have to quickly adopt the new technology involving crenelated mesh attached with a plastic ring in order to once again become competitive.
They decided to give it another try and swiftly set about remodeling their grilles in an attempt to regain the market share they had lost. Willis traveled to a plastics manufacturer in Limmared to try to find the right plastic profile as quickly as possible.
Thanks to this help from outside the company, it took just three weeks for Thule to obtain several different models as well as the equipment needed to weld the profiles. Production was soon underway. Thule had survived its first major crisis and was back in the market again in 1962. The rejuvenated company was brimming with such self-confidence that the same wholesaler that had ordered the fateful hose clamps now returned with a new order. It was an order that proved decisive for the company's future.
Thule Makes It Onto The Car Roof
What Nordiska Biltillbehor really wanted was a ski carrier that could be mounted on the car roof. This time Willis had no problem designing the product. Thule's first ski carrier was a success and in 1963 turnover increased to 240,000 kronor.
The following year, the same customer placed an order for roof racks. Thule now began making roof racks in the summer and ski carriers in the winter. Turnover more than doubled as a result. Both products were relatively simple: the roof rack connected with an adjustable pipe that made it possible to adapt the carrier to the width of the car. The roof racks and ski carriers had very similar feet, which were attached to the car's rain gutters.
This rapid expansion in roof racks and ski carriers meant the company's office at Erik and Gunhild's home was no longer big enough. Even with several additions made to the old wash-house over the years, which now measured 230 square meters, there still wasn't enough space. In order for production to keep pace the company had to increase its capacity and in 1964 Thule moved into a brand new, 550 square meter factory in Hillerstorp.