The Entrepreneurs In The Forest - The Hose Clamp That Went On Strike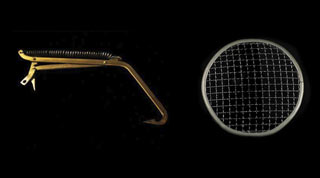 Thule Headlamp Grille and Pike Trap
Thule had started out as a sole proprietorship trading under the name Metallfabriken Thule. In 1960, however, it became a limited liability company and was renamed. The newly formed Industri AB Thule was modestly staffed by its three partners, Erik, Willis and Jack Thulin, as well as Jan Hildingsson, the company's sole employee. Willis had assumed multiple roles as CEO, product developer and marketing director, while Jack as deputy CEO, was responsible for purchasing and deliveries.
Industri AB Thule endured a difficult start, as a couple of tough early tests threatened the company's very existence. Headlamp grilles had served as a reliable cash cow for a number of years, but suddenly a competitor had emerged in the form of a company from Borlange.
This wasn't the only ominous cloud on the horizon. In 1961, Willis had invested a lot of time and money in the development of a new type of hose clamp that the Stockholm wholesale Nordiska Biltillbehor had ordered. Eventually, however, Thule was forced to accept that the clamp wasn't going to work and the project would have to be dropped.
The technological demands were simply too high in relation to the knowledge available in the company at the time. The problem was that 40,000 kronor had been plowed into the development of the hose clamp, which was a gigantic sum considering Thule's turnover that year had been halved to just 98,000 kroner.
The fact that Thule was forced to ditch such a costly investment just when revenue from headlamp grilles had diminished so drastically led to an emergency meeting at Erik and Gunhild's farm, where Industri AB still had its offices. The company stood on the brink of bankruptcy.
Source: Thule Group