Need to carry 4 bikes, What's the best way to do this?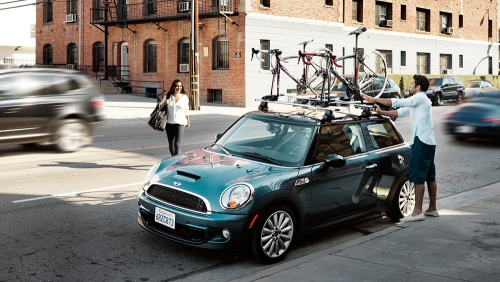 How to carry 4 bikes
Today we will discuss the several different methods to mount four bikes on to your car.
First Option
The first option, and probably most common, is the well-known roof mounted bike carrier route. To carry 4 bikes on the top of your vehicle safely you will first of all need a quality roof rack system. In simple terms the roof rack is a cross bar that fits across the roof of your vehicle. Roof bars are not only limited to fitting bike carriers since you can also fit a Roof Box, Ski Carriers, Water Sports Carrier or a Roof Basket.
Virtually all modern vehicles are capable of fitting up to 4 bikes on top of the roof (sometimes more), if you need to make sure that this is possible, simply use our Roof Mounted Bike Carrier Guide to see how many Thule Bike Carriers can be fitted on your vehicle.
Second Option
The second most popular method is if your vehicle is fitted with a tow ball. When using the tow ball you can transport 4 bikes using the Thule VeloSpace XT4 939 + 9381 tow ball mounted carrier. In standard form the VeloSpace XT is designed to carry 3 bikes but by adding the optional 4th bike adapter you can load up to 4 bikes.
When carrying four bikes on a tow ball mounted carrier, especially on smaller vehicles, it is always advisable to make sure your vehicle has a suitable load carrying capacity to cover the weight of the bike carrier together with the total weight of the bikes that you wish to transport. Either consult your vehicle owners' manual or contact your supplying dealer to find out their recommendations. Tip: Always mount the heaviest bike you wish to transport closest to the tow ball with the lightest bike furthest out. That way you will distribute the weight much more evenly and put less strain on the tow bar.
Third Option
The third option for carrying four bikes is with a rear mounted bike carrier. This type of carrier simply mounts on to the boot of your vehicle. Unfortunately for technical reasons it is not always possible to mount 4 bikes on to your vehicle or even a rear mounted carrier. Please consult our Rear Mounted Bike Carrier Guide to view if it is possible to fit this type of carrier to your vehicle and if it is what the maximum amount of bikes can be carried.