The Entrepreneurs In The Forest - Norway And Finland: The First Export Markets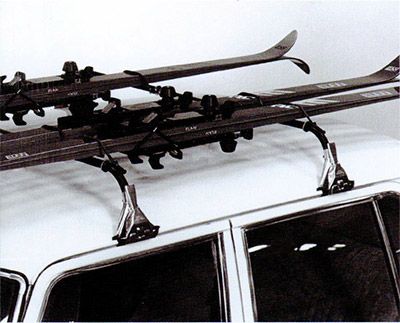 Thule First Ski Carrier
In 1965, Thule had begun to makes cautious inroads into an export market that would later drive the company's growth. Norway and Finland were the first markets outside Sweden in which Thule gained a foothold. In relation to its population, Norway was to become by far the most successful market for the company. All of this led to Thule again doubling its turnover compared to the previous year. In 1965, Thule passed the magical million mark, achieving a turnover for the year of 1.2 million kronor. In Sweden, however, an ominous calm descended. When the time came in spring 1966 to negotiate with Nordiska Biltillbehor for the coming winter season, Thule's dominant Swedish client was suddenly very quiet. Weeks passed and Willis began to grow suspicious. When there was still no sign of an order by mid-June, he decided to make the journey up to Stockholm. He had a feeling that a competitor had emerged and so he decided to travel around and begin marketing Thule to potential new customers.
Willis started out be paying a visit to Esso. Having sold 5,000 ski carriers there, he was full of confidence as he moved on to BP, General Motors, Ford and several other companies in the car and fuel industry. With sales continuing to go well, Willis acted on an impulse on his way home and pulled in to Volkswagen's offices in Sodertalje just before closing time.
In just one day Thule had freed itself from its dependence on Nordiska Biltillbehor and developed a broad customer base. Thule continued to receive orders for headlamp grilles from their once so dominant customer, but nothing in the way of roof racks or ski carriers. Suspicions that they had switched to a competitor seemed justified. One day in September 1966, Nordiska Biltillbehor got in touch again and said they wanted to place an immediate order for ski carriers.
It turned out that they had indeed been buying there roof racks from one of Thule's competitors, and this competitor had run into difficulties and not been able to deliver. As the winter season was just around the corner, negotiations went exceptionally fast and half an hour later Willis left with an order for 25,000 ski carriers.